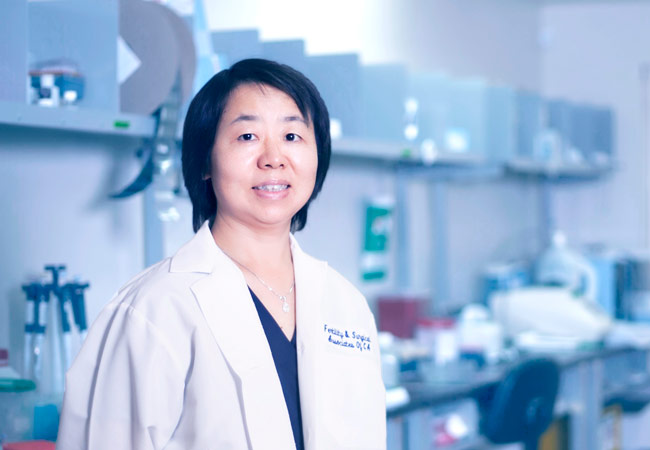 Man Li, MD, PhD, HCLD, NYS PGD, CGMBS, HCLD, ELD
Lab Director, Chief Embryologist
Dr. Li is a certified High-Complexity Laboratory Director (HCLD) in the discipline of molecular diagnostics, with extensive experience in the field of genetics and molecular biology and is also a certified High-Complexity Laboratory Director (HCLD) in the discipline of embryology and andrology. She holds a New York State PGD (molecular) director certificate.Her research on timely aneuploidy screening has profoundly impacted biopsy timing in the field of IVF-PGS. Her team's work revealed that aneuploidy screening at the cleavage stage did not accurately predict the chromosomal constitution of blastocyst, leading to the development of methods for screening embryos at this later stage.
She is a nationally renowned embryologist and well-respected expert in ICSI and preimplantation genetic diagnosis. Dr. Li has been teaching embryo biopsy since 2003, formerly through national course offerings with ART Reproductive Center, Inc., and served as the director of PGD Science, Inc. before she assumed her leadership role atPacGenomics. Dr. Li was trained in the Reproductive Medicine Center of the Zhongshan University Medical School in China, and received her M.D. in 1990 and her PhD in 1998. Dr. Li was a fully licensed physician specializing in reproductive endocrinology in China before she immigrated to the US on an EB-1 visa as an "outstanding scientist." She was among the first REI physician scientists performing ICSI (as early as 1994) in China.
PacGenomics
Hu Ding, MD, PhD, FCAP, FASCP
Medical Director, Lab Director
Dr. Ding, a renowned pathologist, is board certified in anatomic and clinical pathology. He received his pathology resident training at University of Utah and Case Western Reserve University, and his pathology fellowship training at Cedars-Sinai Medical Center in Los Angeles. In addition to the clinical training, Dr. Ding also gained extensive clinical research experience, including research fellowship training at UCLA and at Jikei Medical University in Japan. He previously served as a senior scientist at UCLA and as a research assistant professor at the University of Utah. He served as the Medical Director and Chief Pathologist at HCA Lakeview Hospital, OURLab in Phoenix, AZ, and the PAML lab in Utah before he joined thePacGenomics team.
PacGenomics
Kamran Shazand, PhD
Chief Scientific Officer
Dr. Shazand earned his Ph.D. in molecular biology from the University of Paris 7 – Denis Diderot (France) in 1992. He was further trained in two postdoctoral positions on transcriptional regulation of gene expression and molecular endocrinology. Dr. Shazand has successfully held several leadership roles in public institutions (McGill University, Ontario Institute for Cancer Research) and biotech companies in Canada (Procrea Biosciences, DSM Biologics) and the USA (Rubicon Genomics). He comes with 20+ years of biomedical genomics experience and a high caliber publication track record.
PacGenomics
Helen Jin, PhD, ASCP(MB)
CTO
Dr. Jin is an expert in genomic research and molecular assay development. Applying her multi-disciplinary expertise in molecular biology, bioinformatics and genomics, Dr. Jin has a proven track record of developing molecular assays for genetic abnormalities. Prior to joining PacGenomics, Dr. Jin was a scientist in TheraCell, Inc, where she led efforts to create and develop molecular assays in isolating normal adipose stem cells from human fat tissues for tissue regeneration. Dr. Jin received her doctorate training in molecular biology at University of California, San Diego and post-doctoral training in molecular genetics at University of California, San Diego.
PacGenomics
Lian Liu, MD
CEO
Before PacGenomics, Dr. Liu was a co-founder and CEO of PGD Science, Inc., a well-known FISH-based PGS company based in Southern California, which is now partnered with PacGenomics. Dr. Liu has in-depth genomics knowledge and extensive hands-on experience in embryo biopsy and PGS for IVF. Dr. Liu received his M.D. degree from Tongji Medical University in China and practiced neurosurgery prior to co-founding PGD Science, Inc. He leads the PacGenomics team with his innovative spirit and desire to improve the status quo of health care services through single-cell technologies.
PacGenomics
Lori Broitman
Clinical Sales Manager
Lori Broitman, our Clinical Sales Manager, comes to us with 11 years of experience in the fertility industry. She began her career in fertility as a Regional Account Manager with Avella Specialty Pharmacy and then as the Director of Business Development at Fertility Source Companies. Lori has strong, established relationships in the fertility industry and has acquired a clear understanding as to her client's needs and how they can be met. Her innovative thinking and exceptional interpersonal communication skills add tremendous value to her performance within PacGenomics. Lori derives much joy from being a part of the journey in fertility that, she too, has experienced as a patient. Lori graduated from the University of Arizona with a Bachelor of Science degree in Sociology and a minor in Psychology.
PacGenomics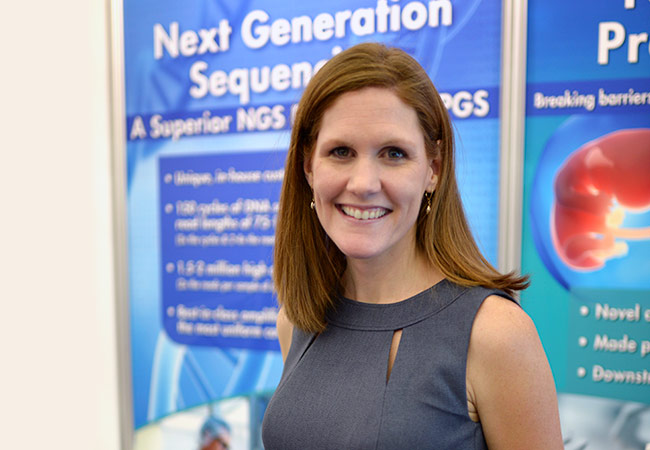 Gina Davis, MS, LCGC
Genetic Counselor
Ms. Davis is a board-certified genetic counselor, specializing in the field of reproductive medicine. She served as a genetic counselor at the University of California, San Francisco's Center for Reproductive Health from 2004 to 2013, and founded a private genetic counseling practice for reproductive medicine in 2013. While studying to become a genetic counselor, Ms. Davis served as a medical assistant at two private fertility practices in Southern California, and conducted research at a UC Irvine molecular genetics lab. Ms. Davis received undergraduate degrees from the University of California, Irvine, in both English Literature and Biological Sciences, with an emphasis in Developmental Biology. She earned her master's degree in Genetic Counseling from California State University, Northridge. Her graduate thesis focused on attitudes of patients who have undergone fertility treatment toward prenatal diagnosis. She has been immersed in the field of reproductive medicine her entire career, and brings a wealth of knowledge and compassion in working with both practitioners and patients.
PacGenomics