PGT-A with 24-Chromosome Array CGH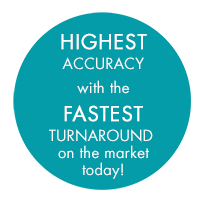 At PacGenomics, we have engineered the highest resolution microarray platform on the market, bringing to you the most accurate results with the greatest confidence. With our CAP accreditation, CLIA certification, and New York State license, you have the certainty that we are held to the most rigorous standards by both the industry and ourselves.

Our platform uses synthetic oligonucleotides immobilized on a glass surface, with oligonucleotide probes measuring 45-85 nucleotides in length. The higher resolution for copy number is achieved due to the higher probe density and greater hybridization efficiency than the other arrays on the market. The density is 20-60 times higher than that of the most commonly usedPGT-A microarrays on the market, giving you greater confidence in your patient's results.